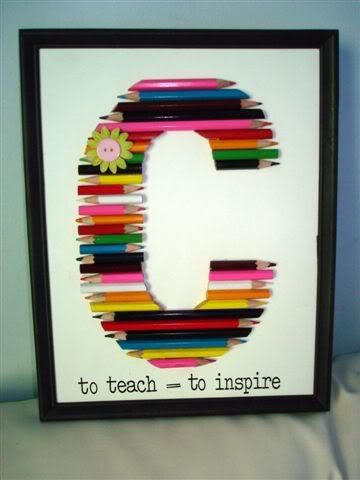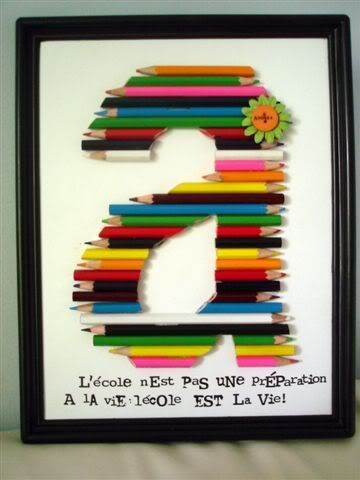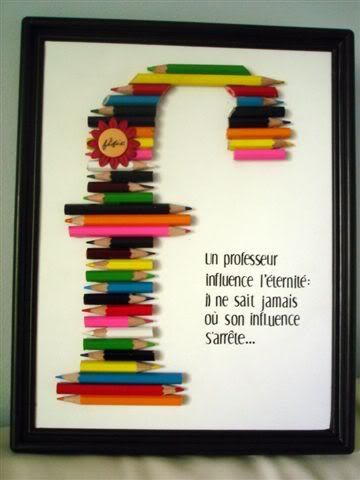 I've been making these for 5 years now, as teacher gifts. The teachers LOVE it. They always show me, the next year, where they hang it in their classroom. The first time I did it, the teacher went around the school showing it off to all the other teachers!!
And *I* love it, because, well, it's much appreciated. And also because it's CHEAP!! You know how I love cheap, frugal, thrifty art!!
This is super easy to do.
What you need
a frame (Dollar Store!)
A canvas (dollar store!)
Pencils (dollar store, leftovers, or whatever! I bought a bag of several hundred mismatched pencils at the thrift store, for 2 bucks, this year!)
Glue gun
A saw
Sandpaper
Sharpie or Rub-Ons
Start off by taking the glass off the frame (you can use it for another project or as a cutting mat)
Now cut the canvas, if need be, to fit inside it.
You can paint or varnish the canvas if you want.
Go on your computer and open Word. Then open WordArt, choose the outline option, choose your font and write the letter you need. (uppercase, lowercase, whatever style you wish, but make it simple). Make it the size needed. Print it out, then cut it out.
Outline the letter on the canvas with a pencil or other tracing pen that is easily removed.
Now, time to get those pencils. First, sharpen them if need be.
Start by the upper hand of the letter. Put something heavy so that the pencil won't roll out of place. Mark where you need to cut with a sharpie. Do that for all the pencils (leave the pencils there so you know where you are)
Before removing them, take a picture to make sure you know exactly where each goes!
Some people, I've seen, cut the pencils in a straight line. I prefer following the edge of the letter, it makes a nicer finish IMO. So, I cut in a diagonal often.
Cut with a saw (hand saw or whatever you have on hand!) and sand the edge.
Then, with a glue gun, glue the pencils back into place, erasing the lines before you glue.
At the end, you can add a name or sentiment with either a black sharpie or rub-ons. You can add a decorative flower or not
Sharing this to these linky parties:
Il te faut:
*Un cadre (j'achète les cadres pour diplômes, au dollo!)
*Une toile (ceux du haut étaient en carton avec un cardstock, mais maintenant j'utilise une toile d'artiste, aussi trouvée au dollo. Par contre, je dois la couper légèrement pour la faire entrer dans le cadre comme il faut)
*De la colle chaude
*Une scie quelconque (à main ou non)
*Des crayons de bois
*Un aiguisoir, hihihiTu enlèves la vitre du cadre. (Garde la pour un autre projet, ou comme tapis de coupe)Tu mesures la toile pour qu'elle entre dans la cadre
Tu peux peindre la toile, ou la protéger avec un vernis, mais c'est pas obligatoire.
Ensuite, tu vas dans Word, et tu ouvres Word Art. Tu choisis l'option "outline" (contour de lettre seulement). Tu écris ta lettre, tu choisis ta police d'écriture (pas de fioritures, juste simple... regardes si tu veux, par exemple, une majuscule ou minuscule, etc). Tu imprimes, puis tu découpes ta lettre. Tu traces ta lettre sur la toile, très légèrement avec un crayon à mine ou crayon blanc.
Maintenant, c'est le tour des crayons. S'ils ne sont pas aiguisés, tu les aiguises!
Puis, tu commences au bout de la lettre (je commence habituellement par en haut) et tu fais une ligne, au sharpie, là où tu devras couper. J'ai souvent vu des gens qui coupent droit, mais je préfère suivre l'angle de la lettre et couper en diagonale quand il le faut. Mais... c'est pas facile à couper parfois!! Ah, et assure-toi que si y'a de l'écriture sur le crayon, que ça soit en dessous et non visible!! (ah, et après avoir coupé le crayon, assure-toi de bien sabler avec un papier sablé!)
Je place les lettres sur la toile (je les empêche de bouger en mettant un objet lourd de chaque bord) et je continue à prendre les mesures et tracer au sharpie. Puis, je prends le tout en photo, comme ça si quand sont tous fait, je commence à couper. Parfois, faut recommencer parce que le crayon casse ou ta scie accroche le dessus du crayon. Par contre, si la mine casse, je fais juste la recoller en dedans du crayon, hihihi!!
Puis, je colle, avec de la colle chaude. J'efface ma ligne tracée avant d'y déposer mon crayon.
À la fin, j'ajoute soit une pensée, soit le nom de la personne, et parfois, comme en haut, des fleurs :)